We are in the 4th Industrial Revolution
IR4Tech is a Technology Startup founded by IT professionals who have significant industry experience working with Leading IT companies like Accenture, Tata Consultancy Services, American Express, Infosys, RBS etc. The core management team and advisors are an alumnus of premier institutions like NSUT, IIMs IITs, DTU and IMT. The team brings in their professional experience to life and help our clients to remain ahead of the game while operating in a very competitive world.
Our focus areas aligned to skills required in the 4th Industrial revolution such as Artificial Intelligence, Machine Leading, Blockchain, Robotics, Cloud Computing, Data Engineering & Data Science, IoT and related skills like User Experience, Web/Mobile Development, Digital Marketing etc. We bring in the right blend of practical hands-on technology experience with the relevant Industry experience to deliver world-class services to our clients.
We offer Consulting, Training and Solutions for our clients in the technologies relevant for 4th Industrial revolution. We have entered into a partnership MOU as the Knowledge Partner with TSSC (Telecom Skill Sector Council) under National Skills Development Council (NSDC), a Government of India enterprises to run various New-age skills program to improve employability across India.
We recognize the issues & challenges with the gap in terms of professional education and the expectation Industry has. The core team of IR4Tech has significant Industry experience and understand this gap and well versed with how to fix this. We have come up with unique and industry relevant engagement model with reputed institutions and Universities to bridge the gap. We believe that this will not only increase the employability of millions of students and working professionals. Our engagement model with the Colleges and Universities ensures constant engagement with the faculty and the students and is much beyond delivering training programs.
Our Value Proposition
Content developed by professionals who have significant industry experience
Constant engagement with the students - During Breaks as well during the Semester
Constant engagement with the students - During Breaks as well during the Semester
Learning Management System with Digital Course content and regular online Assessment
Online to students to resolve their queries
Industry connect Senior Faculty with Industry experience
Meet IR4tech Founder & CEO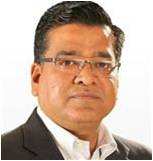 Arun is a senior leader who has worked with leading IT companies like TCS & Accenture. In his last role at Accenture he was responsible for the Technology delivery for Financial Services for the European clients having 8000+ people delivering services from Accenture technology Centre in India.
Arun has been in the Industry for 25+ years and has primarily worked for Banking and Capital Markets clients in various geographies on different roles with assignments in Europe, US ,South East Asia and South Africa. He has significant experience in large and complex system integration and outsourcing services delivery for leading FS Institutions globally.
He has essayed various roles in technology delivery, program and project management, change and business transformation and client relationship management.
In the last two decades, Arun has worked with various engineering schools and universities to provide advice and mentorship to bridge Industry-academia gap to improve employability.
Arun is the Technology mentor and member Board of Studies  for JKLU (J K Laxmipat University), Jaipur & RIET Jaipur. He is also the General Secretary Akhil Bhartiya Cyber Suraksha Sangathan (ABCSS) which is an NGO helping in spreading awareness about Cyber Security. He is also Life member of IIPM.
Arun was born and brought up in Delhi and is an alumnus of NSUT, Delhi.